If you are looking to produce clean electricity and eliminate your power bill, Solar Colchester can help you every step of the way.
The program provides 0% interest financing to install solar panels and gives you access to an energy advisor to guide you through the whole process. This includes answering your questions, assisting with obtaining quotes, and ensuring you take advantage of provincial and federal rebate programs.
Connect with a program advisor today as we move towards our goal of being a carbon-free community. To get started, call (902) 920-0615 (local Truro number) or email This email address is being protected from spambots. You need JavaScript enabled to view it.
Why should I participate in Solar Colchester?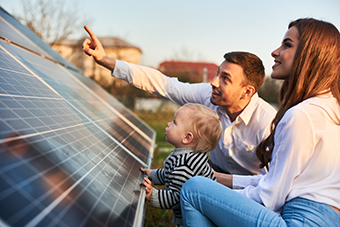 We make it simple...
Generate clean energy and reduce your greenhouse gas emissions
Easy access to technical advice
No money down
0% financing
Savings that will exceed payments, in most cases
Help to access and benefit from all eligible provincial and federal rebates
How do I participate?
Contact us for advice at (902) 920-0615 &

This email address is being protected from spambots. You need JavaScript enabled to view it.

.
We can help you get quotes from local contractors and a Home Energy Assessment (as needed)
When you are ready, sign our Participant Agreement
We authorize contractor to proceed
We pay contractor once the work is complete
Start your payments and start saving
Frequently Asked Questions
Frequently Asked Questions COMING SOON! In the meantime, please phone
(902) 920-0615 with any questions you may have.
Eligible Projects
Solar PV (photovoltaic) projects on residential properties with up to four units are eligible
for financing. Please give us a call to confirm eligibility.
For other energy efficiency projects, visit our Cozy Colchester webpage.
Call for Contractors!
Are you a local contractor/supplier and want to know more about the program and
grow your business?
Express interest and get invited to our next industry engagement session or give us a
call at 902-920-0615 or send an email to This email address is being protected from spambots. You need JavaScript enabled to view it..
See our up-to-date list of approved Solar Colchester contractors here.
Financing
Have your project pay for itself through energy savings!
On average, installing a solar system will save you $130 /month in energy and it will cost $110/month in financing.
Key Financing Terms:
Financing through your property, not personal credit
0% interest rate!
Up to 15-year term
No fees for early repayment
Finance up to $30,000 or 25% of your property value (whichever is less)
Low monthly payments with typical savings that will exceed payments
Combine with other Incentives
You could be eligible for up to $6,000 for from Efficiency NS Solar Homes program or up to $5,000 from the new federal Greener Homes Program!
We'll ensure you take advantage of all existing incentives available!
The Fine Print
Call us if you would like to see a sample Participant Agreement at 902-920-0615.